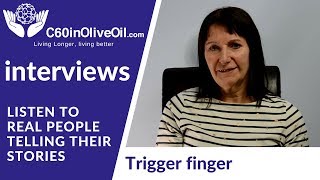 C60 relieved trigger finger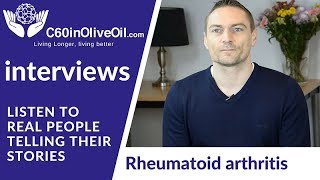 C60 in rheumatoid arthritis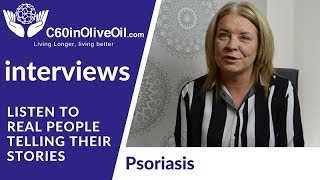 C60 relieves psoriasis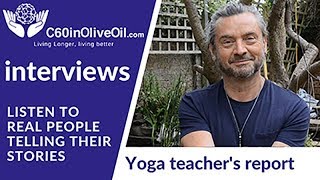 Yoga teacher reports on C60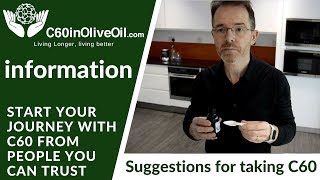 Suggestions for taking our C60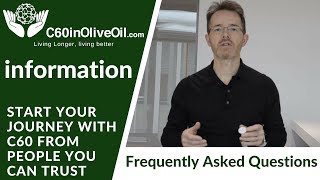 FAQ's about C60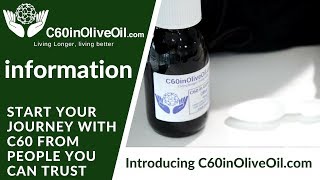 Introducing C60inOliveOil.com
C60 relieved trigger finger

Carol talks about her experiences of taking C60 and which types of C60 oil she prefers best. We also hear about how trigger finger she had suffered from for some time has got better. This seems to be the only reported case of this.

C60 in rheumatoid arthritis

Dr Steve Moore interviews Matt about his experiences of taking C60 in olive oil. Matt has suffered rheumatoid arthritis for a number of years. Studies have should C60 could be of benefit in arthritic condition so after discussing this with his Rheumatology specialist Matt agreed to take part in a trial of C60 in olive oil to see if and how it affected his condition. Matt experienced some very positive benefit during the trial of C60 and you can hear from Matt about what those benefits were. Matt was able to enjoy his life and take part in hobbies and pastimes giving him a better outlook on his future.

C60 relieves psoriasis

Steve Moore, the Chief Scientist at C60inoliveoil.com talks to Debbie who has suffered from the skin condition psoriasis since she was a teenager. Debbie agreed to take part in a trial of C60 in olive oil to see if and how it affected her psoriasis. We hear from Debbie first hand how psoriasis has affected her and how taking C60 has changed her life and her outlook on the future. Debbie had such success talking C60 in olive oil that she tried avocado and hemp. Her absolute favourite is hemp which for some reason we do not really understand she was able to reduce her dose and ever go to alternate day doses. A very motivational insight into how C60 can help some people and improve their self confidence and outlook on life.

Yoga teacher reports on C60

Dr Steve Moore discusses Marc Aquaviva's experiences of taking C60 in olive and avocado oil. Marc runs a yoga school in Hove and is generally in tune with his body. Marc first heard about C60 when he saw a video in which Clif High spoke about some of the experimental data and the benefits of taking C60. We have to say not everything Clif said in the video was absolutely correct but the benefits he spoke about were. Marc was doing quite a lot of manual work during the time he started taking C60 and he found the work was not as arduous as he thought it would be, he had more stamina and his recovery was faster. In addition Marc says he felt taking C60 changed something fundamental in him and he experienced a deep cleansing.

Suggestions for taking our C60

Taking C60 thSteve offers a few suggestions on how you might take C60 in olive oil. Many find the taste of olive oil not to their likely as it is quite peppery. Avocado oil on the other hand is a very mild taste and hemp oil has a distinctive taste but does not have the kick of olive oil. C60 oil can be added to food although we would not recommend hot food. Steve makes a kefir shake with various fruits and nuts which makes a pleasant and healthy way to take C60 in olive. He shows the C60 oil added to the kefir shake which he then prepares in the blender. An alternative is to make the kefir shake and then add the C60 oil onto the top of the glass with the shake in and drink it off the top.

FAQ's about C60

Steve goes over a number of the frequently asked questions about C60 in olive oil. These include the dose of oil you should take and whether you can take too much C60. He also talks about free radicals and that they are involved in a number of conditions people develop with advancing age. There are a lot more topics covered on our frequently asked question page on this website.

Introducing C60inOliveOil.com

Dr Steve Moore introduces our original product, C60 in olive oil. Looking at it now we can see a few changes, including the tamper evident bottle seals which are now clear and not black as in this video. He also shows the useful bottle inserts and syringe system. He demonstrates putting the insert into the bottle neck and drawing off C60 in olive oil. These bottle insert and syringes are now being offered on the website as an addition to a purchase of C60 oil. Steve also shows us the colour of C60 in olive oil. This is a magenta - reddish colour in olive oil. When dissolved in avocado and hemp it is a similar colour to this but as the oil is a much darker colour this can only be seen against a bright light.